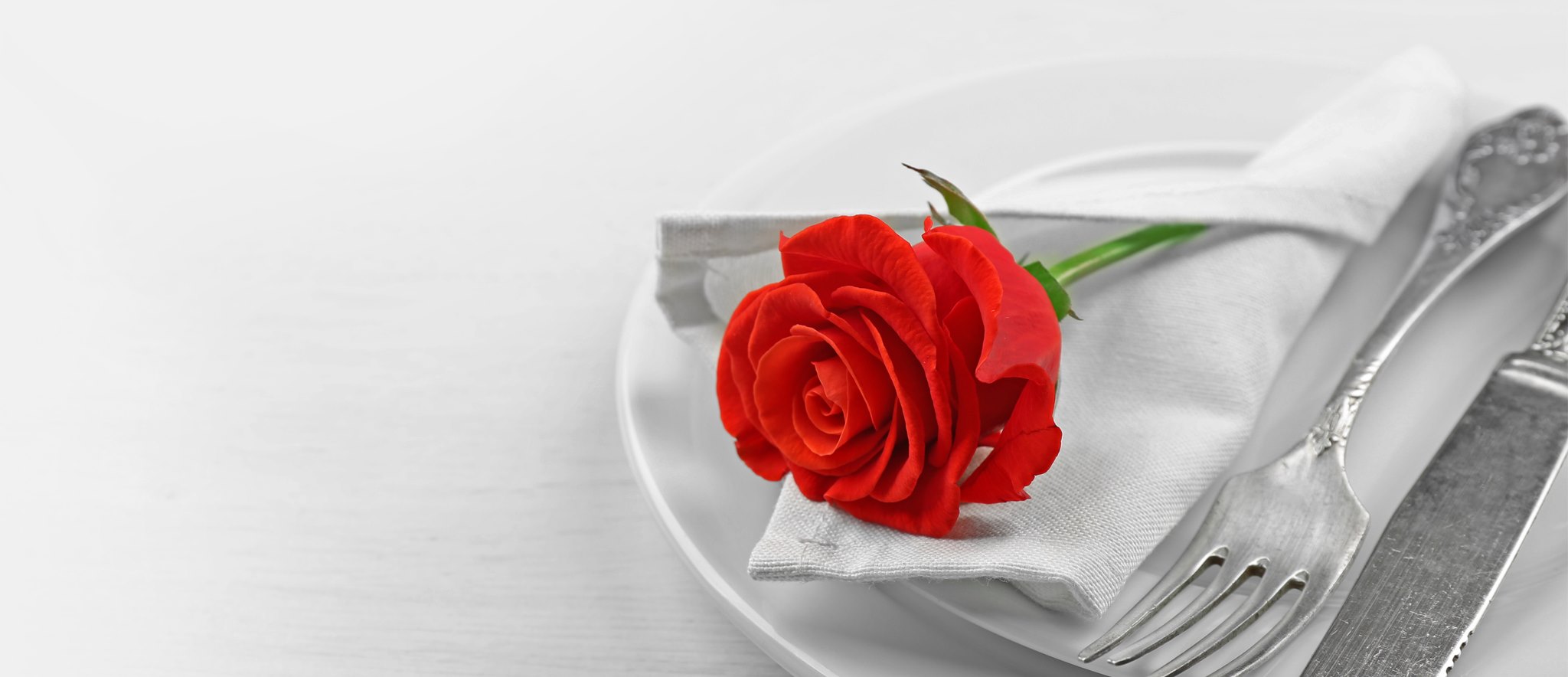 Celebrate Valentine's Day at Bleu Restaurant & Lounge!
Please join us between Friday, February 14, 2020, and Saturday, February 15, 2020 for our Valentine's Day 2020 Dinner!
Our Valentine's Day 2020 Dinner includes a special menu created by Executive Chef Leland Spence. Seating begins at 4:00pm each day.
$75 per person + tax & gratuity
Includes 1 non-alcoholic beverage (coffee, iced tea, fountain drink, lemonade) OR 1 glass of wine from our house selections: Cabernet Sauvignon, Chardonnay, Rose, Pinot Grigio, Moscato, or Champagne.
Free 3-hour valet parking will be provided by the Westin Memphis Beale Street with validation from Bleu.
---
Valentine's Day 2020 Three Course Prix Fixe Dinner Menu
Executive Chef Leland Spence
Sous Chef Kimberly Parks & Sous Chef Sous Chef Darren Johnson
Soup & Salad
(Select One)
She-Crab Soup
Garnish with Sherry & Chives
Kale Caesar Salad
Romaine Hearts-Bloomsbury Farms Heirloom Grape Tomatoes-Shaved Parmesan-Buttery Herb Garlic Grilled Baguette-Classical Caesar Dressing
Raspberry Salad
Hand Snipped Arcadian Mixed Greens-Vine Ripe Raspberries & Blueberries -Candied Pecans-Lady Goat Smoked Goat Cheese-Raspberry mint Emulsion
*
Entrée
(Select One)
Pappardelle Pasta
Monterey Mushroom Field Mushrooms- Roasted Brussel Sprouts- Pumpkin-Toasted Pine nuts-Shaved Parmesan – meatless or with choice of Chicken, Shrimp or Salmon
French Chicken Breast
Harvestland Frenched Chicken, Boursin Parmesan Sundried Tomato Spinach Orzo, Broccolini, Herb Chicken Demi Glace
Pan Seared Halibut
Coconut Curry Potato Puree, Grilled Asparagus-Tomato Jam
Berkshire Pork Chop
Candied Bacon Brussel sprouts-Pettie Green Tip Carrots-Apple Maple Bacon Sauce
Crispy Braised Duck
Sweet Potato Puree Puree-Braised Kale-Bourbon Blueberry Demi-Glace
Filet Mignon
Parmesan Boursin Mushroom Risotto-Haricot Verts-Baby Carrots
New Zealand Lamb Chops
Sweet Potato Puree-Roasted Garlic Rosemary Fingerling Potatoes-Fig Balsamic Drizzle
*
Sweet Indulgence
(Select One)
White Chocolate Raspberry Cheesecake
Chantilly Cream, Fresh Seasonal Berries
Triple Chocolate Mousse Cake
Chantilly Cream-Fresh Berries
Key Lime Round
Chantilly Cream-Fresh Berries
Peach Sorbet
---
Please valet park through the Westin Hotel so we may validate your parking.
Make your reservation by calling 901-334-5950 or make a reservation online.